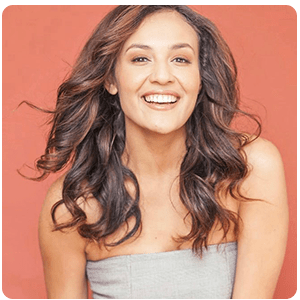 Musical Theater, Improv, Hip Hop
Estefania moved to Los Angeles at the age of 18 from Raleigh North Carolina. She was hired to be a dancer on the TV show, Glee. She then got to travel the world on tour with 5th Harmony & Natalie La Rose. 
Estefania has starred in many national commercials like Hyundai, Wells Fargo, L'Oreal, and Invisalign. She moved to Las Vegas for two years to star in Michael Jackson ONE by Cirque Du Soleil. While in Vegas she was part of the cast of Jubilee under the direction of Frank Grayson. She has also worked with Janet Jackson, Justin Bieber, Mariah Carey, and many others. 
She was most recently on the creative team for Beyoncés BLACK IS KING. 
Another huge passion of hers is teaching and mentoring the next generation of dancers. She has had the opportunity to teach dance to kids and young adults around the world.