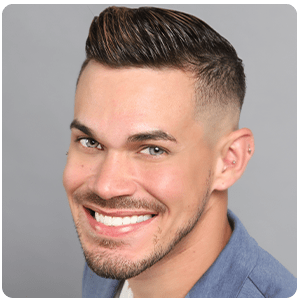 Ballroom, Ballroom Fusion
From a very early age, Jose knew he was born to perform. This Puerto Rican native started dancing at the age of 12 and has never looked back. Folkloric, Jazz, Hip Hop and Salsa first brought him to the dance floor, but four years of formal ballet training really brought his dancing skills together.  
 
In 2008, Jose fell in love with ballroom dancing and began training intensely as a professional instructor. He is a multi-lingual dancer specializing in latin dancing, but Salsa, Mambo and Cha Cha have always been Jose's favorites. He has competed all over the country.  José is your reigning champion for United States Dance Pro/Am Mambo Championship  and recently competed on his very first Country Western Line Dance competition winning 1st place overall champion.  
 
When you don't see Jose on the dance floor, he's probably creating works of art with his sewing machine.  Jose is also a costume designer, having trained under some of Central Florida's best designers while he worked at Hardrive Productions, Inc.  He's helped to create costumes for Walt Disney World, Universal Studios and many other theme park shows.  Also other stage performers like singers, and theater just to mention some. He is also a professional makeup artist and hair stylist, earning his Cosmetology Certification from Aveda Institute.  Jose is an extremely well-rounded dancer, costume designer, and performer, creating works of art for many all over the country.